NoteWorthy Composer™
NoteWorthy Composer is our music notation software authoring tool for Windows. It allows you to create, record, edit, print and play back your own musical scores in pure music notation. You can use the built-in transpose feature to quickly adapt a part written for an instrument in a different key to the native key for your instrument. The print feature makes it possible to publish sheet music right from your desktop. You can also save your notation as a MIDI performance for use in other MIDI applications, including software karaoke players. If you have a computer and an interest in music, consider trying our evaluation edition. It is a free download from this site. The licensed version of the program is just USD $49 and is made available for immediate download from our site.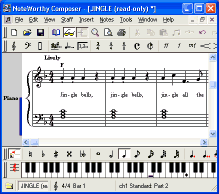 At left of this text is a small animation of the program in action. You can use the built-in, on screen piano to assist in entering notes, as well as watch it perform as your work is played back. You can also use the computer keyboard for rapid note entry.
Computer system requirements:
A computer running Microsoft Windows (Windows 10, 8, 7, Vista, XP SP3). The program is provided as a 32-bit binary, which is fully functional on the 64-bit releases of Windows 7/8/10 (x64).
Did You Recently Purchase?
If you have already purchased a license for NoteWorthy Composer Version 2, you can verify your license, as well get your download if you have not already done so, using our license authorization and validation form:

License Authorization and Validation Form

If you have recently ordered, but not yet received your license information in the mail, then you might want to check your order status, as well as claim your product's 48 hour download, from your order status page:

Follow Us